Auckland for the Economical Explorer: Adventures that Won't Break the Bank
Ah, Auckland - the City of Sails. Or, as we like to call it, the City of Snails, given the pace at which traffic moves here. But don't be deterred, dear tourists. Auckland's unique blend of city living and nature's playground offers an experience that's as unforgettable as the unique discomfort of a 12-hour flight in a middle seat with no legroom to get there.
---
How to Get There and How to Get Around
Arriving in Auckland is easy. It's escaping that's the hard part. The city is serviced by Auckland Airport, which is conveniently located in the middle of nowhere, giving you an immediate taste of New Zealand's vast wilderness.
With its hilly terrain, numerous waterways, and roads that twist and turn like a plot from a daytime soap opera, getting around can seem as straightforward as a quantum physics exam. But fear not! Just as every maze has a solution, so too does Auckland's transport system. Here's how to navigate it without breaking the bank.
1. On Foot:
When the weather is as cooperative as a cat during bath time, Auckland can be a lovely city to explore on foot. There's a certain charm to getting lost in the city's many parks and waterfront promenades. Plus, walking is free, which is a price that appeals to anyone, regardless of their budget.
2. By Bicycle:
Auckland's cycleways are expanding faster than a waistline at an all-you-can-eat buffet. Renting a bike can be a cost-effective and fun way to get around, as long as you don't mind the occasional hill. Just remember to wear a helmet, because Auckland's drivers can be as unpredictable as a squirrel on caffeine.
3. Public Transport:
The bus, train, and ferry network in Auckland is quite comprehensive, reaching even the more remote suburbs of the city. It's about as reliable as a weather forecast, but it will usually get you where you need to go. Be sure to grab an AT HOP card, because casch is not accepted on Busses, Ferries or Trains. It's a bit like a magic carpet ride, but with more stops and less singing.
4. Car Rentals:
If your budget can stretch to it and you're comfortable driving on the left side of the road, renting a car is a great option. This gives you the flexibility to explore Auckland and its surroundings at your own pace. Just be prepared for the city's traffic, which can be as slow-moving as a tortoise on vacation.
5. Ride share:
While this is generally safe in New Zealand, it's not the most reliable way to get around. If you do choose this route, be prepared for anything, from a ride in a tractor to a lively debate about rugby. It's a bit like playing the lottery, but with vehicles instead of numbers. Check out the Ride share in Auckland page, or list your own trip.
So, dear budget-conscious traveller, armed with this guide, may you navigate Auckland's transport system with the confidence of a sea captain in familiar waters. Remember, the journey is just as important as the destination, especially when it comes with such entertaining anecdotes. Happy travels!
Sightseeing
Auckland boasts an impressive array of sights, such as the Sky Tower, a large needle piercing the sky that locals inexplicably seem proud of.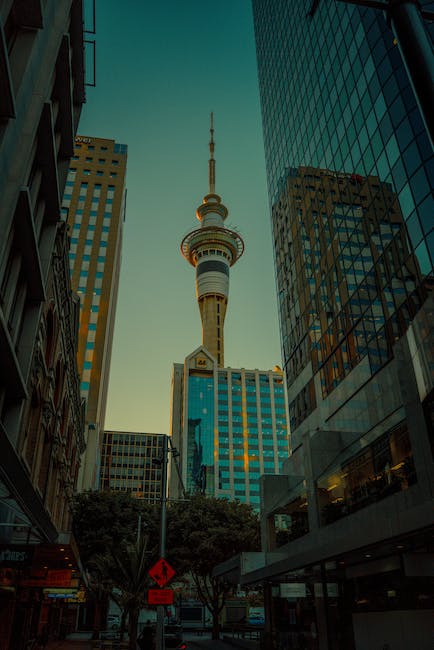 The Sky Tower, a structure as difficult to ignore as the bright red 'low battery' warning on your phone while you're using GPS in an unfamiliar city, stands like an enormous celestial syringe, injecting a dose of architectural audacity into the New Zealand sky. By night, its futuristic lighting lends it an otherworldly glow, shifting colours with the whimsy of a mood ring to mark special occasions. Standing proud at 328m, it holds the title of the southern hemisphere's tallest structure, much like a giraffe in a field of decidedly short sheep.
A lift, operating with the urgency of a cheetah on a caffeine binge, whisks you up to the observation decks in a mere 40 seconds. This experience is not unlike being teleported, but with a considerably higher likelihood of keeping your lunch down. If you're in search of a thrill, take a gander through the glass floor panels. It's a bit like walking on air, but with the comforting reassurance of reinforced glass between you and the unforgiving pull of gravity. If your visit coincides with sunset, consider nursing a beverage in the Sky Lounge Cafe & Bar while you watch the day do a flamboyant exit stage west. But that's not all.
The Sky Tower also plays host to the SkyWalk and SkyJump, for those who view the laws of physics as a playful challenge rather than an immutable fact. These experiences, it should be noted, are not for the faint-hearted, the acrophobic, or anyone with an aversion to high velocity encounters with the ground.
Official website | Google Maps
Behold the Auckland Museum, a grand edifice that asserts its presence in the Auckland Domain with the subtlety of a marching band parading through a library. Its neoclassical facade, dating back to 1929, is topped with a copper-and-glass dome that was added in 2007, presumably because someone decided that the building wasn't eye-catching enough. This architectural marvel holds a commanding position in the Auckland skyline and is especially striking when viewed from the harbour, where it appears to be silently judging the yachts.
The museum's ground floor is a veritable treasure trove of Pacific Island and Māori artefacts, which are as essential to the Auckland experience as rain in summer. Marvel at a 25m war canoe that's about as peaceful as a horde of seagulls spotting your unattended fish and chips at the beach, and an intact carved meeting house that insists on you removing your shoes before entering, much like a hygiene-conscious host. Among other attractions is a gripping display on Auckland's volcanic field, featuring an eruption simulation that's as close to the real thing as you'd want to get while still keeping your eyebrows intact. The upper floors, not wanting to feel left out, offer military displays that serve as a reminder of the building's dual role as a war memorial.
Outdoors
1. Piha Beach: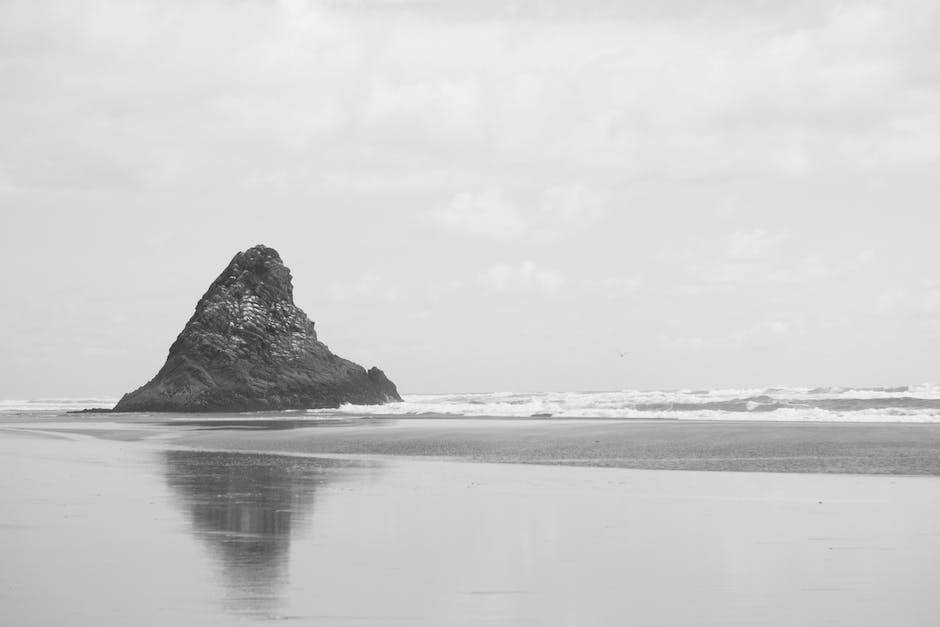 This ruggedly beautiful spot on Auckland's west coast is as dramatic as a finale episode cliffhanger. It's renowned for its black sand, towering cliffs, and for being a surfer's paradise - although the waves here are as forgiving as a mafia boss, so it's not for beginners. Don't forget to hike up Lion Rock for amazing views - just be prepared for a climb that's as challenging as finding a parking spot in downtown Auckland on a Friday night.
2. Waiheke Island:
Only a ferry ride away, Waiheke Island is like a little slice of Mediterranean paradise, but with more sheep. With a climate as pleasant as a well-behaved puppy, it's perfect for exploring the many vineyards, olive groves, and beaches. You can hike, bike, or simply lay back and bask in the island's beauty, all without spending a fortune. Just remember to bring your own picnic, as prices here can be as inflated as a politician's ego.
3. Auckland Domain:
The Auckland Domain is the city's oldest park and is as diverse as a high school drama club. It's a great place for everything from leisurely strolls, picnics, to sports, and the Wintergardens here are a must-visit. Plus, it's home to the Auckland Museum, so you can get a dose of culture while you're at it.
4. Rangitoto Island: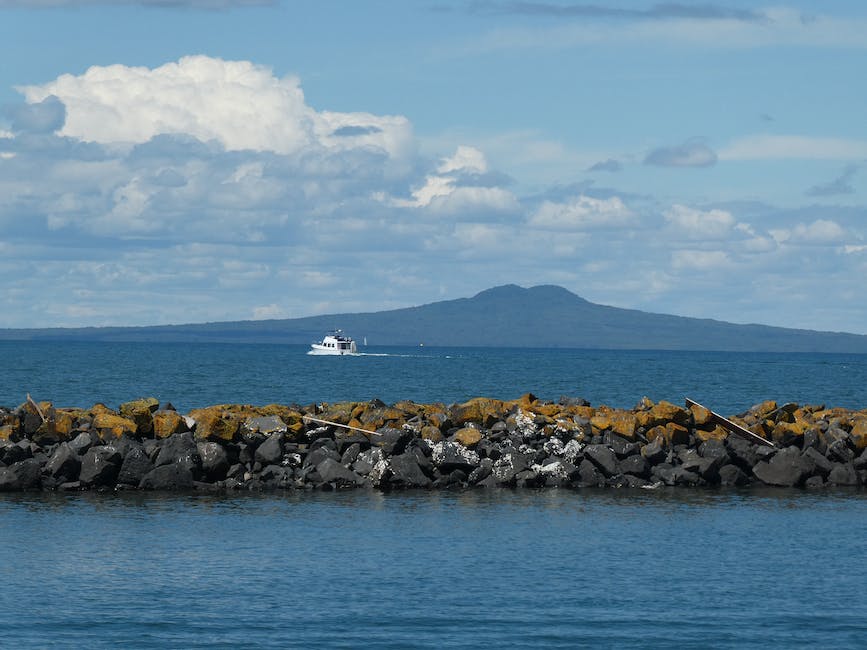 Rangitoto Island is Auckland's very own volcanic island, which is as cool as it sounds. A ferry ride and a hike to the summit will reward you with panoramic views of the city and the Hauraki Gulf. It's a bit like climbing Mount Doom, but without the pesky ring and with more beautiful views.
5. Beaches:
Auckland has more beaches than a pirate has bad teeth. From the golden sands of the east coast beaches to the wild black sand beaches of the west coast, you're spoilt for choice. Just remember that the sun here can be as harsh as a drill sergeant, so slap on that sunscreen.
Food
Auckland, the city where 'eating out' and 'taking out a second mortgage' are terms that are often worryingly interchangeable. Fear not, dear budget-conscious wanderer, for there is hope yet. As impossible as finding a needle in a haystack, or a sober rugby fan on a Saturday night, there are places in Auckland where you can eat well without having to auction off a kidney.
1. Food Trucks:
Much like a chameleon in a box of Skittles, Auckland's food trucks can be a colourful and delightful surprise. From the carb-laden glory of the ubiquitous kebab trucks to the more exotic offerings of Korean BBQ and Mexican tacos, these mobile eateries are a testament to the fact that good things come in small, wheeled packages.
2. Farmers Markets:
Auckland's farmers markets are as vibrant and diverse as a clown's wardrobe. Here you can find everything from fresh produce to artisanal cheeses, and even meals cooked right in front of you. Not only will you get to taste the local flavours, but you'll also be supporting local producers, making you a hero in your own lunchtime.
3. Asian Cuisine:
In Auckland, affordable Asian eateries are as common as misplaced umbrellas. In particular, the suburbs of Newmarket and Dominion Road are hotspots for cheap, delicious fare. Here, you can find everything from dumplings that cost less than a bus ride to bowls of steaming pho that are as comforting as a grandmother's hug.
4. Fish and Chips: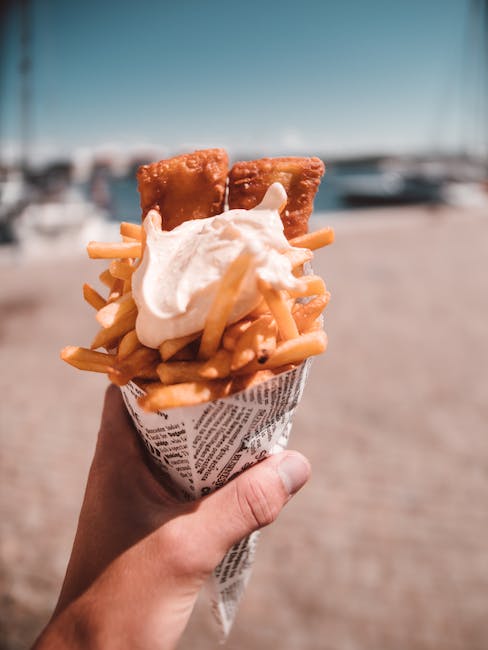 As Kiwi as a pair of jandals at a beach barbecue, you'll find fish and chip shops scattered across Auckland like seagulls at a picnic. Not only are they cheap, but there's also something inherently satisfying about eating crispy, battered fish and hot chips while sitting by the ocean. Just beware of the actual seagulls, they're as ruthless as a reality TV judge when it comes to stealing food.
Best Neighborhoods to See
Every neighborhood in Auckland offers something unique. Ponsonby is perfect for those who enjoy overpriced vintage clothing and artisanal avocado toast. Parnell offers quaint charm and the chance to rub shoulders with Auckland's elite. And don't forget Otara, where the local market provides a unique, authentic taste of the Pacific Islands, and the chance to haggle over a root vegetable you can't pronounce.
So there you have it, hitchhikers! Auckland, a city where you can experience all four seasons in a day, where the locals are friendlier than a Fenchurchian Babelfish, and where the coffee is almost as strong as the country's national pride in their rugby team.
---