Canberra: A Uniquely Vibrant Adventure
Canberra, the capital city of Australia, a place where the kangaroos hang out in backyards like oversized, bouncy dogs, is often overlooked by backpackers on their way to Sydney or Melbourne. Little do they know they're missing out on a world full of gastronomical delights, outdoor activities, and cultural experiences akin to the feeling one might have when you unexpectedly discover a $20 note in your old jeans pocket.
---

1. Sightseeing, Museums, Things to do
National Museum of Australia: If history were a jigsaw puzzle, the Australian National Museum would be the beautifully completed picture. Located on the shores of Lake Burley Griffin, it's as captivating as a 3D movie, but without the need for funky glasses. The museum is a vibrant showcase of Australia's social history, aboriginal heritage, and environmental issues. Unravel the mysteries of the First Australians in the mesmerizing 'Gallery of First Australians', venture into the 'Old New Land' exhibit to journey through Australia's unique environmental history, and don't miss the 'Australian Journeys' gallery, which elegantly narrates the stories of Australia's connections with the world. The museum is an absolute must-visit for its unique and engaging approach to history that's as refreshing as finding an air conditioner in a desert. So, come along, take a stroll through the annals of time, and emerge with a deeper understanding of this fascinating country.
Australian War Memorial: A compelling amalgamation of a museum and shrine, the Australian War Memorial takes you through Australia's military history in a sobering yet fascinating way, akin to the feeling you might get when you manage to open a stubborn pickle jar after numerous failed attempts. The Hall of Memory, with its beautiful mosaics, is a must-see.
Questacon - The National Science and Technology Centre: A museum where Einstein's relativity might seem as simple as making instant noodles, Questacon is a explorer's delight. From the Free Fall slide to the Earthquake House, there's something for everyone.
Parliament House: For the ones fascinated by politics or grand architecture (or perhaps just curious about where laws are made - spoiler, it's not inside a washing machine, though sometimes it feels like it might be), the Parliament House is the place to visit. Check out the intriguing architecture and if your timing is right, you might just catch a debate in action.
2. Food Choices
Like a magic 8-ball, Canberra's culinary scene has answers to all your food desires.
Braddon: If food were a canvas, then Braddon would be the artist's studio. With its charming eateries serving everything from creamy avocado toast to crispy kangaroo pizza (yes, you read that right), Braddon is a food lover's paradise.
Kingston: Renowned for its fresh produce markets, Kingston lets you indulge in an array of dishes ranging from gourmet burgers to scrumptious pastries that are as much a treat to your eyes as they are to your taste buds.
3. Outdoor Activities
Canberra is as outdoorsy as a solar-powered torch, with several picturesque places to soak up nature.
Lake Burley Griffin: A vast, artificial lake in the heart of the city, Lake Burley Griffin is perfect for activities like kayaking, sailing, or cycling around its beautiful shores. It's as calming as a hot cup of tea on a cold, rainy day.
Namadgi National Park: Just a short drive from the city, Namadgi National Park is like that secret recipe grandma swore she would never share - full of surprises and delights. Hiking, rock-climbing, and wildlife spotting are just some of the activities that await you.
4. Neighborhoods to Explore
Acton: This neighborhood is as diverse and intriguing as a plot of a mystery novel. It boasts of chic cafes, innovative art installations, and a boutique cinema that screens eclectic films.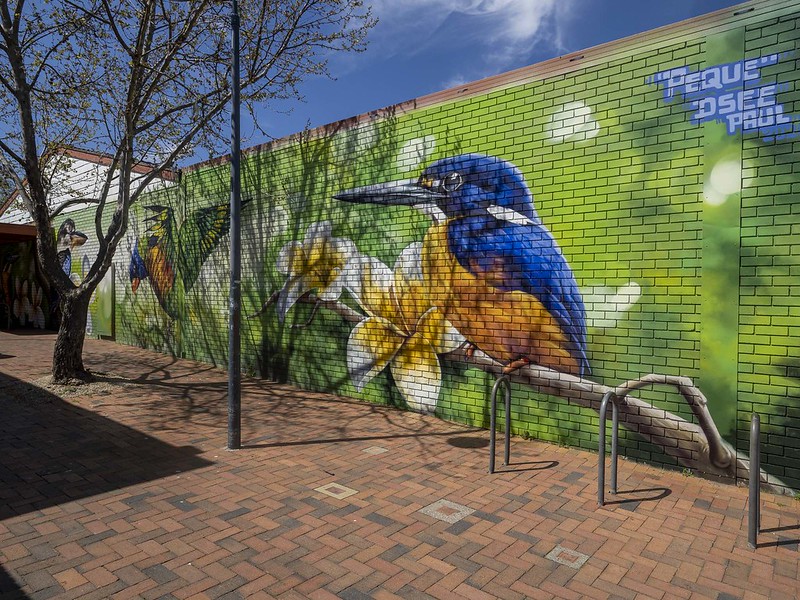 Dickson: Known for its Asian eateries and cool bars, Dickson is an exciting place to explore, much like turning the pages of a gripping thriller.
5. Getting Around
In Canberra, public transportation is as efficient as a Swiss watch and equally punctual. The city's buses, known as ACTION, are reliable and cover most parts of the city. For routes less travelled by these buses, there are the light rail services that feel as futuristic as a movie about time travel, only without the paradoxes.
There are bike-sharing services spread across the city, offering an eco-friendly way to explore the beauty of Canberra.
If your feet are itching to wander the different corners of this lively city, Canberra's intuitive city design is great for walking too. The city is as accommodating as your favorite aunt who always has an extra slice of cake just for you.
Just remember, no matter where your adventures take you in Canberra, remember to carry a valid ticket or transport card with you on all your journeys. After all, you wouldn't want your Canberra adventure to be remembered for running after a bus while juggling a cup of coffee and a transport card.
Conclusion
Canberra is ready for your exploration - armed with its sun-soaked charm, intriguing neighborhoods, thrilling adventures, and a cornucopia of delicious food. It's as inviting as a handwritten note on a refrigerator door, and, much like such refrigerators, is full of delightful surprises. May your time in Canberra be as exciting and fulfilling as finally solving a complicated crossword puzzle!
Always remember, in the grand scheme of things, there's no better way to embrace the unfamiliar than by immersing yourself in it. As you unravel the wonders of Canberra, you might just end up discovering a bit of yourself too! Here's to the joy of travel and the thrill of the unexpected!
---