Adelaide Uncovered: A Backpacker's Guide to Thrifty Thrills
Today, we're heading down under to Adelaide, the vibrant capital city of South Australia. This cosmopolitan coastal city is brimming with culture, arts, food, wine, and a whole lot of adventure. And the best part? Many of its treasures are either free or won't break your budget. So, hold onto your backpacks as we journey through Adelaide's delights that won't cost you a fortune.
---

1. Adelaide Botanic Garden
Let's kickstart our thrifty adventure at the Adelaide Botanic Garden. This verdant oasis in the heart of the city is an excellent spot to escape the urban hustle. With over 50 hectares of beautifully maintained gardens, stunning architecture, and fascinating plant collections, it's a must-visit for any green thumbs. Don't forget to check out the impressive Bicentennial Conservatory, the largest single-span glasshouse in the Southern Hemisphere. Entrance to the garden is entirely free!
2. Art Gallery of South Australia
Art lovers, rejoice! The Art Gallery of South Australia houses one of the most significant art collections in the country. With over 45,000 works of art spanning centuries, it's a visual feast. The best part? General admission is absolutely free. Do check out their official website for information on any special exhibitions, which may have a small fee.
3. Adelaide Central Market
Next, let's dive into the buzz of the Adelaide Central Market, the heart and soul of Adelaide's food scene. With over 70 traders under one roof, you'll find an array of fresh produce, delectable pastries, artisan cheeses, and much more. A true feast for the senses and a great place to grab an inexpensive bite. Don't miss the free Market Tours on Tuesdays, Thursdays, and Fridays!
4. Glenelg Tram Ride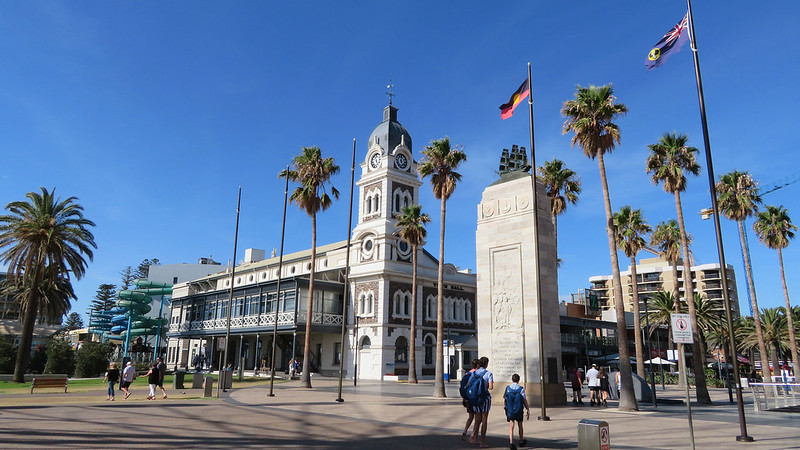 Hop on the iconic Glenelg Tram for a scenic ride to Adelaide's beloved beachside suburb, Glenelg. The ride is free for the city centre sector and offers beautiful views of the cityscape. At Glenelg, enjoy a stroll along the beach, visit the charming shops, or simply watch the sunset. Here's the Google Maps location for your convenience.
5. Cleland Wildlife Park
Although there is an entrance fee to Cleland Wildlife Park, it's a small price to pay for the opportunity to meet Australia's iconic wildlife. Get up close and personal with kangaroos, koalas, emus, and many more. Be sure to check their official website for discounted tickets.
6. Hike to Mount Lofty
Nothing beats the panoramic view of Adelaide from the summit of Mount Lofty. This popular hiking spot is just a short drive from the city centre and offers a fantastic workout for those willing to conquer the trail. The path is well-maintained and suitable for all fitness levels. Pack a picnic, enjoy the stunning natural beauty, and maybe even spot some local wildlife along the way. Trust me, the view at the top is worth every step!
There you have it, folks. Adelaide is a backpacker's dream, filled with an abundance of activities that won't cost you a pretty penny. Remember, the best things in life are free (or at least, relatively inexpensive), and this certainly holds true when exploring this lively Australian city. So, what are you waiting for? Grab your backpack and let Adelaide surprise you with its many thrifty delights!
Please note that prices and availability are subject to change, so it's always a good idea to check the official websites or contact the venue before your visit. Happy backpacking!
---